Riddle Me This, Conundrum Sphinx
bdm | June 25, 2010 | 12:59 am
So is anyone still complaining about blue? Okay, I have actually heard plenty of people complaining about blue but it has a different tenor than the complaints from little over a year back. It does not seem that long ago that blue mages were hitting the mana-lines looking for handouts to keep them going. "Why is Wizards making blue so bad?" they would ask. "When will R&D give us some good blue cards?"
Be careful what you ask for or you might find yourself staring across the table at four mana, flying, blue Ophidian that you know is bigger than a Lightning Bolt can deal with on its own. Get a load of Conundrum Sphinx, the exclusive Top8Magic.com M11 Preview Card.
At first glance it seems like one of those Liar's Pendulum-type cards that have a lot of text, promise to maybe draw you a card once in a blue moon, and before long are relegated to the back pages of trade binders at FNMs everywhere.
But if you think about the cards that blue has available to play with — and that are currently being played extensively in Standard — it is not too hard to imagine a scenario where the Conundrum Sphinx is able to start flying over on turn four and drawing its controller — possibly even you — an extra card a turn.
I will certainly be testing this card in my Standard gauntlet as I prepare to compete in Nationals. Think about it for a second. Play a turn two Everflowing Chalice and land this bird on turn three. Assuming you get to untap with it in play you can use any number of cards to get maximum value out of it and even protect it.
Halimar Depths is a card that leaps to mind and will actually net you you two extra cards while dealing 8 damage over two turns since you arrange three cards so that you get one when the Sphinx attacks, one on your next draw step and then the third one when you attack again. Halimar Depths is so exciting with this card that I fully expect to playing a set of Deprives to accompany it — especially if this is a more aggresive blue deck that can play some early threats and protect them with bounce and counterspells.
There is also an entire suite of cards that will coexist in Standard until Scars of Mirrodin shakes things up that let you smooth out your draws and solve the riddle of the Conundrum Sphinx. Ponder, the newly minted Preordain, Augury Owl…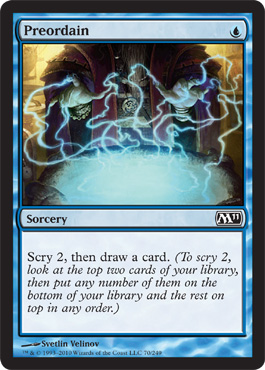 …Jace, the Mind Sculptor. I know that there are pretty much no card that you can mention that don't get better with a little help from everyone's favorite Planeswalker but he really shines in concert with the Sphinx and a little countermagic to make sure the whole plan comes together. Even if you only attack once with Jace in play you will have drawn a total of three cards. Which seems like a good thing to be doing.
Mike and will be posting an M11 Preview podcast after the weekend to discuss this card and all the other goodies that have been unleashed over the past 24 hours.