bdm | 12:06PM on Wed Sep 29 2010
Seth Burn is a long-time Magic columnist — you may remember him as the resident Used Deck Salesman when TCGPlayer.com was known as Brainburst — a fixture of the NY Magic community, and known for his annual NFL previews on various Magic sites throughout the years. He felt the siren's call of the set review for the soon to be released Scars of Mirrodon and we are happy to present it here at Top8Magic.
Black: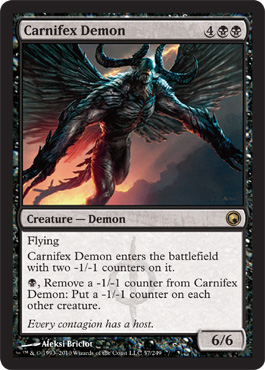 Carnifex Demon
Being able to kill a bunch of weenies and tokens with your 6/6 flyer is a nice trick, but Grave Titan is already so good in the 6 drop slot that it would require a pretty specialized metagame to make Demon a better choice.
Corrupted Harvester
Twisted Abomination is laughing at you. Yeah, you have 1 more power, whatever.
Exsanguinate
The problem with cards that excel in multiplayer is that they suck in multiplayer. When you play cards like Exsanguinate you find yourself against all flags. Enjoy your life gain, now you die. Read the rest of this entry »