Exclusive Mirrodin Besieged Preview Card: Treasure Mage
bdm | January 19, 2011 | 1:39 am
"What is the opposite of a Trinket?" I asked Mike Flores as I opened the exclusive Top8Magic.com preview card from Mirrodin Besieged. "Would it be a Trunk-it?"
"I have no idea what you are talking about," said Mike (aka @fivewithflores) who only responds to people by Twitter these days and had, predictably, not opened his email yet.
"I am looking at our preview card right now," I said, doing my best to not sound too exasperated with Mike's retreat from the non-Twitter portions of the communication. "It looks a little bit like a Trinket Mage but it gets bigger –"
"Bigger how?" said Mike, cutting me off. "It has a higher casting cost?"
"Nope. Same exact casting cost. It gets bigger — " I tried explaining again.
"So you can pump its power?" said Mike, not waiting for me to finish. "Like water-breathing on a Viscerid Deepwalker?"
"Nope. Same exact stats in the lower right and nothing on the card lets you change them."
"I don't understand how it gets bigger then," sighed Mike.
"I was trying to tell you, that it is like Trinket Mage but it gets bigger…stuff. Just open your email and you will see what I mean."
I call him Trunk-it Mage but, officially, he is known as Treasure Mage. You can get a look at him below the fold.

Mike and I are going to speak to this card much more next week when we will provide a lengthy — and likely indoor — podcast about the cards in Mirrodin Besieged that will have been spoiled to that point. In the meantime, allow me to repeat a couple of the things that were bandied about on that phone call with Mike.
Maybe I am crazy — and it would not be the first time that I have been called so in reaction to my opinion of a Magic card — but I think this is the most significant card for Constructed that we have had a chance to preview on this site. I know that I thought Conundrum Sphinx was going to tussle in 60 card decks but it has simply always been outclassed in the four slot by cards like Jace, the Mind Sculptor.  Treasure Mage on the other hand is competing primarily with the likes of Sea Gate Oracle in the three spot.
The first thing that leaped to mind was to take the blue-black control deck that both Guillaumes used in the Standard portion of the World Championships in Chiba. If you replace the Sea Gate Oracles with Treasure Mages and the Grave Titans with Wurmcoil Engines and possibly even a miser's Mindslaver it could foreshadow the Constructed portion of Paris.  There is obviously some tradeoff there since you can never use the Treasure Mage to smooth out your mana like a Sea Gate Oracle can but it does put a game winning card in your hand — or on top of your deck if you want to tuck it away for safe keeping with a Jace. Treasure Mage can actually trade with a Goblin Guide or other two toughness creature in an aggro match-up while you bide your time until the Engine hits the table.
If you look at the artwork for the Treasure Mage he is riding a Steel Hellkite. I know that I will be adding Treasure Mage to my Mormir Vig Commander deck for just that tutor target but I could actually see people playing one or more copies of the metallic dragon in more competitive formats once this little wizard becomes legal. In fact I think there are a lot of Treasures in the current Standard environment that you might want to consider now that you have more access to them. The problem remains in casting them. If only your Treasure Mage could tap for 2 mana…
…Oh wait, he can if you play with Grand Architect. Assuming you have led off the game with either a Riddlesmith or Everflowing Chalice on turn two and Treasure Mage on turn 3 then you can play Grand Architect and any 6-mana treasure you searched for on turn four. You can slam down a Wurmcoil Engine, Mindslaver, Contagion Engine (one of the few ways to deal with Thrun the Last Troll by the way) or a Thopter Assembly on the fourth turn like you were a green deck. Which is not to say that you can't also play it in a green deck. I could imagine a package of Treasure Mage and Contagion Engine being very pesky in an Elf deck mirror.
I am going to be keeping my eye out for foil versions of Treasure Mage to put into various Commander decks. Mycosynth Lattice seems like a particularly fiendish card to search up in just the right deck but there are no shortage of exciting cards to find from Mindslaver to Memnarch to Bosh to the ubiquitous Duplicant.
I am certainly not an expert on the older formats but I have to imagine that this card will at least be considered in Eternal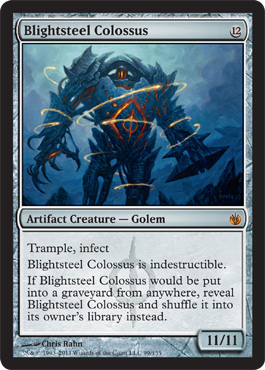 formats since it can put an Inkwell Leviathan, Sundering Titan, or the freshly spoiled Blightsteel Colossus right into your hand for you to somehow cheat it into play. As I have been playtesting Extended more than one opponent has come to the virtual table with an artifact deck built around Master Transmuter. One of the weaknesses of the deck has certainly been that its "tutor" — Sphinx Summoner — is higher on the curve than the Transmuter. The addition of this card to the mix certainly has me chomping at the bit to try an updated version after the Mirrodin Besieged prerelease weekend.
You can find a Prerelease near you by clicking here.  In the meantime…keep on Trunking!