bdm | 02:03PM on Thu Sep 15 2011
Overheard today on Twitter:
"Would playing on a team with @fivewithflores count as 'playing for charity'? Discuss." - @Jonnymagic00 aka Jon Finkel
"yeah me Phil and Lachmann are a team, going all 3 days." - @OsypL aka Osyp Lebedowicz
"wish there were events like this out in San Diego!" - @bmkibler aka Brian Kibler
What event could pique the interest of the likes of Jon Finkel, Osyp Lebedowicz, and Brian Kibler? None other than the return of the The Grudge Match, reborn as MTGGrudgeMatch.com, taking place in Philadelphia during the release weekend for Innistrad. It is a 32-person $10,000 tournament with entries being funneled into it from two events. The first is a Friday Night Innistrad Sealed Deck event that costs a preposterously low $20 and will send 8 players into the big Sunday Standard event. The remaining 24 spots will be decided on Saturday in a FREE Standard tournament.
Pretty sick, right? You have two shots to qualify and one is cheap and the other is free! Not only that but you can earn byes into the Standard portion on Saturday with a strong finish on Friday. The Top 16 players from the Sealed event will all get one-round byes the next day. You may be wondering what the Top 8 players who have already qualified for the event would want with the bye but there is a very good reason for playing both days.
Players can be sponsored to compete in the two events as three-person teams for $100 and the Top 4 teams at the end of the Sealed and Standard portions on Friday and Saturday will advance to a 3-person team event taking place after the Top 8 of the $10,000 event. The winning team will win $1,000 and the sponsor will an additional $1,000. And if you don't have a store to sponsor you can sponsor your own team — which is what Finkel and Lebedowicz were referring to in their tweets. Additionally there is another $1,000 if the winner of the main event is a member of a sponsored team. There is up to $3,000 on the line for members of teams on the weekend.
Read the rest of this entry »
bdm | 08:49PM on Tue Aug 2 2011
While I was away MichaelJ got lonely and called up Hall of Fame hopeful Mark Herberholz. I honestly have no idea what they talked about — it could be anything. I am going to listen to it as soon as it goes live (don't try this method at home!) and you should do the same. Before I have to take it down.
bdm | 08:42PM on Tue Aug 2 2011
I have had this podcast stranded since before leaving for San Diego Comic Con. This was Michael J Flores and I grabbing a quick half and hour before my trip to discuss the Hall of Fame ballots and various eligible candidates. Sorry for the delay.
bdm | 05:26PM on Mon Jul 18 2011
Brad Nelson and I have been trying to sit down for a podcast going back all the way to GP Providence but distractions in the form of drafts, drinks, and physical exhaustion conspired against us. Finally, with more than a little den-mothering from Lauren Lee, we sat down and chatted with the tape running. Brad is the midst of a promotional blitz for the forthcoming biography about him "Grinder: The Brad Nelson Story" by Rich Hagon and we talked about having a book written about you, having Rich live in North Dakota for a couple of weeks, and what the last two years of his life have been like as he rose from MTGO shark to Player of the Year.
bdm | 04:24PM on Tue Jul 12 2011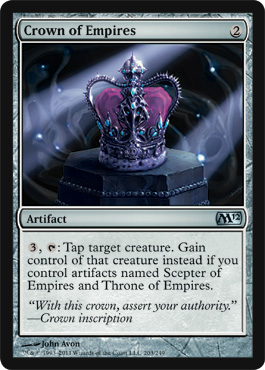 Michael Flores and I got together last night to drink some cold brewed coffee from Joe's, talk about the ramifications of the changes to Organized Play for last weekend's Magic 2012 Prerelease events, make some suggestions on how to handle Prereleases in the future, and do some brainstorming about potential Standard decks for the upcoming $75K tournament in Chicago.
We also spoke about Pascal Maynard's winning decklist from the Canadian Magic Tour which is listed below:
ShiftBlade
Pascal Maynard — Winner
Canadian Magic Tour
4 Squadron Hawk
3 Emeria Angel
4 Preordain
4 Mana Leak
3 Spell Pierce
2 Sword of Feast and Famine
2 Gravitational Shift
2 Gideon Jura
2 Jace Beleren
2 Dismember
2 Into the Roil
2 Journey to Nowhere
1 Gitaxian Probe
1 Deprive
4 Seachrome Coast
4 Celestial Colonnade
4 Glacial Fortress
4 Inkmoth Nexus
4 Island
3 Plains
2 Arid Mesa
1 Scalding Tarn
Sideboard:
4 Flashfreeze
3 Day of Judgment
2 Celestial Purge
2 Spellskite
2 Mental Misstep
1 Dismember
1 Divine Offering
Mike also mentioned an old interview he did on SCG which is linked here.
bdm | 05:41PM on Mon Jul 11 2011
(New York area tournament goers should be well familiar with our local Level 3 judge Eric Smith who has been Head Judging Gray Matter Conventions events in this neck of the non-woods for the last decade and a half. With no large-scale prerelease to judge this weekend — due to the recent Organized Play changes that put such events in the hands of Local Game Stores and not Regional Tournament Organizers like Gray Matter Conventions — Eric found himself in a reflective mood and fired off this ode to big events.)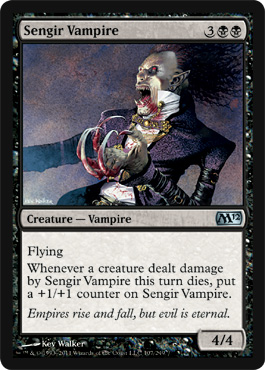 This past Saturday was the prerelease for Magic 2012. Prereleases are always fun events. Seeing the new cards and wondering how they are going to effect the various formats makes for an excellent opportunity to dream about the decks you want to build and getting a chance to play with the new cards themselves makes for a great way to spend a morning (and afternoon and evening…). Or so I have been told, at least. You see, for the last 14 or so years I haven't been playing in prerelease events. Rather I have been helping to run them in and around the New York area. So last Saturday's prerelease represents the end of an era for me and I have found myself waxing a bit nostalgic. And it got me to thinking about the first few prerelease events I worked and where they have taken me…. <Cue: Wayback machine>
I first moved to New York from North Carolina in August of 1997. In those days the name of the Magic game in New York was Neutral Ground, the store founded by Brian David-Marshall and associates. That same group of folks also founded Gray Matter Conventions, which is still around as a tournament organizer in the New York area. At the time I was not a certified judge, the letters in the DCI still meant something, and the prerelease events in New York were held at the New Yorker Hotel. Being new to the city the first big event that I attended was the Tempest prerelease that fall. It was a pretty big change from the events I had attended in North Carolina and I was excited to get a chance to meet the local New York community. I have to admit that I can't remember how I did at the event, though I do remember getting passed a Cursed Scroll late in a draft and thinking that the card might turn out to be pretty good. Though I didn't know it at the time I also made one of the most life changing decisions I have ever made at that prerelease. Namely I asked if I could help out as a volunteer. From my point of view I thought that it might be a good way to get to know the local players a bit better. And since I had been one of the go-to people for rules questions back in North Carolina I had been thinking for some time about becoming a certified judge, and this seemed like a good way to start that process. Plus I knew how may Scryb Sprites it took to block and kill a first striking Sengir Vampire (a question that remains as relevant today as it did back then….) so perhaps my fate was already decided. I am still not sure why they agreed to take me on that first weekend but the folks at Gray Matter have been paying for that mistake ever since…. Read the rest of this entry »
bdm | 05:36PM on Tue Jun 28 2011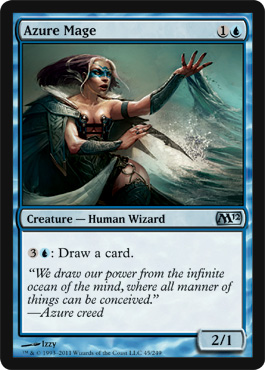 If there is one thing I hate about core sets is the limited amount of fodder they provide for punny podcast titles. Feel free to make some suggestions in the comments section as there will be more M12 coverage and discussion in the coming weeks. Meanwhile, Mike Flores and I got together at our now regular podcast rendezvous to clear the air about other podcast we have been seeing on the side, a little bit of chatter about the recent bannings of Jace, the Mind Scuiptor and Stoneforge Mystic, and a wander through the Card Image Gallery for the new cards that will be released in the coming weeks.
bdm | 10:29AM on Thu Jun 2 2011
Duels of the Planeswalkers 2012 Preview
I was lucky enough yesterday to get a sneak peak at Duels of the Planeswalkers 2012 courtesy of Magic Brand Manager Paul Levy. Paul sat down for a podcast to discuss the online release on June 15th and I was excited to hear about how closely integrated Duels 2012 is with the upcoming base set release. I was even more excited when I got to see some actual M12 booster packs (sadly I could not convince anyone to draft with them — or even open them) AND some actual M12 cards that are featured in some of the decks in the game. I also walked away with the promo Grave Titan, Frost Titan (and Top8Magic listeners know I am excited about that one), and Inferno Titan. Depending on what platform you purchase Duels 2012 on you will get a code redeemable for one of these alternate art beauties.
Duels of the Planeswalkers goes on sale for Xbox Live Arcade, PC via Steam,
and PlayStation Network on June 15th. Magic 2012 Core Set will be available on July 15th at game stores the worldwide. Players from both the digital and analog sides of the game will come together for a Magic Celebration on September 10th all around the world.
In the meanwhile enjoy these preview of a handful of the cards that appear in the Magic 2012 Core Set. You can find the rest of those images below the fold — or not if you don't like spoilers. Read the rest of this entry »
bdm | 02:01PM on Tue May 24 2011
Splinter For The Win with MichaelJ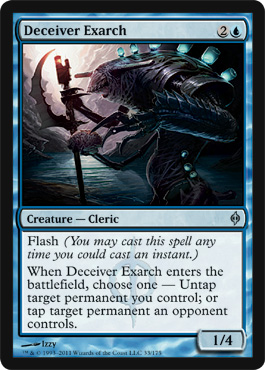 Kudos to our own Michael J Flores for winning the TCGPlayer.com WWS Big Apple this past weekend with the long-threatened Splinter Twin/Deceiver Exarch combo deck. Mike fought his way through a 200+ person field that was split into two separate flights which merged into a single elimination Top 16. There, he squared off with Chris Leveque and Grixis Twin, GP winner Dave Shiels with Caw-Blade, MOCS competitor Reid Duke with Blue-Black Control, and finally — in a show down between the grizzled veteran Flores and the young upstart Flores — Edgar Flores with Caw-Blade.
We talked the Monday after the tournament about the big win, his individual card choices, and the operational techniques he used to get through the very long and grueling event. Here is the decklist he used and as a bonus I have included Top8Magic intern Matt Ferrando's Bant Blade list which he played to a Top 16 finish — after winning a SCG IQ qualifier with it last week.
Splinter Twin
Michael Flores — Winner
2011 TCGplayer.com WWS Big Apple
4 Deceiver Exarch
2 Inferno Titan
2 Jace Beleren
4 Jace, the Mind Sculptor
1 Pilgrim's Eye
4 Sea Gate Oracle
4 Into the Roil
3 Mana Leak
4 Preordain
2 Spell Pierce
4 Splinter Twin
10 Island
8 Mountain
4 Scalding Tarn
4 Tectonic Edge

Sideboard:
1 Basilisk Collar
1 Consecrated Sphinx
1 Dispel
1 Elixir of Immortality
1 Jace Beleren
1 Jace's Ingenuity
2 Manic Vandal
2 Pyroclasm
2 Spell Pierce
2 Spellskite
1 Trinket Mage
You can find all the Top 16 decklists here but I have singled out Matt Ferrando's Bant Blade and longtime friend of Top8Magic.com's Luis Neiman's Dark Blade below the fold. Read the rest of this entry »
bdm | 06:37PM on Mon May 9 2011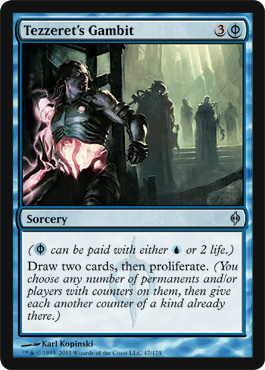 Mike Flores and I sat down for a nice windy cup of coffee to discuss his burgeoning love affair with the new PryoTwin decks that will be emerging from the post-New Phyrexia Standard format. Mike has always been a proponent of Pyromancer's Ascension in Standard, going all the way back to last year's Nationals season, and with the addition of free spells and the extra Splinter Twin combo thanks to the printing of the flashy new Deceiver Exarch he has declared it to be the deck to beat in the coming weeks. Why does he feel so strongly about it? I guess you will have to give a listen to find out.