bdm | 11:44AM on Wed Sep 29 2010
Seth Burn is a long-time Magic columnist — you may remember him as the resident Used Deck Salesman when TCGPlayer.com was known as Brainburst — a fixture of the NY Magic community, and known for his annual NFL previews on various Magic sites throughout the years. He felt the siren's call of the set review for the soon to be released Scars of Mirrodon and we are happy to present it here at Top8Magic.
White:
Arrest
Oblivion Ring is unimpressed.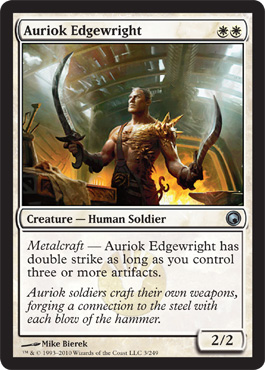 Auriok Edgewright
Usually he'll be a bear. Sometimes he'll be a super bear. Getting metalcraft isn't as easy as I would have hoped, and the payoff simply isn't that large.
Auriok Sunchaser
Pretty worthless without metalcraft, a 3/3 flyer for 2 with it. If metalcraft were almost certain I'd like him, but it isn't.
* Addendum: Apparently the real issue isn't getting metalcraft, it's that I have much better things to do.
Dispense Justice
First I need three artifacts, then they need to attack with multiple men. Meh. This just isn't good enough. Read the rest of this entry »